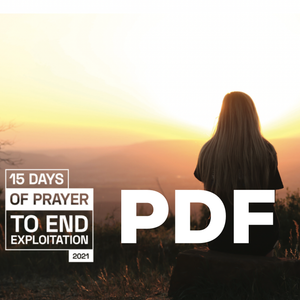 15 Days Prayer Guide PDF
This is a PDF version of the Prayer Guide (Booklet). If you would like to buy several PDF versions of the guide and send them to your family or friends we ask you to adjust the amount of guides you buy on the cart page.   
Click here if you prefer a physical copy.
This prayer guide will take you through 15 days of stories to help you better understand the issue of human trafficking in different areas around the world and Jesus' heart to engage this issue. Each day has a number of prayer points to help guide you in intercession.
Why a prayer guide? I (Matt) have worked alongside organizations fighting human trafficking since 2016. Even with the connections I have and the work I do I still found myself overwhelmed in not knowing how to pray into the issues of trafficking and exploitation. "If I feel this way I'm sure others do to" weighed on me and I started taking steps forward to create a resource to help people (and myself) pray against this injustice.
We would love for you, your family, your small group, and your church to consider purchasing these prayer guides and partnering with us in prayer!